REPAIRS + MAINTENANCE
The carefree range of services from SpykerEnthusiast enables its customers to enjoy the best possible driving pleasure. From small services to big engine out maintenance, we would love to discuss what is needed on your Spyker. 
Every workshop order is based on a detailed assessment of your vehicle, a jointly agreed workshop plan and during this maintenance process we will keep you updated with photo's and all that is necessary.
---
SPYKERENTHUSIAST SERVICE PACKAGES
At SpykerEnthusiast we offer you the following service packages
C8 SERVICE PACKAGE A; Inspection of all fluid levels and vital mechanical and wear parts of your Spyker such as the wiper blade or brake pads. If replacement is required we will contact you about the details and only carry out the service operation in accordance with you.
C8 SERVICE PACKAGE B; This package is a regular vehicle maintenance operation. This includes the same vehicle operation as service package A, and adds tot that the following activities. Renewing oil and filter, brake fluid and bleeding brake system, pollen filter (cabin air filter), replacing batteries in Spyker key fob, weighing and replacing air conditioning refrigerant.
C8 SERVICE PACKAGE C; This package is an elaborate vehicle maintenance operation. This includes everything mentioned in service package B, and adds to that the following activities. Renewing engine coolant and transmission oil. Replacing fuel filter, spark plugs, engine air filter, battery, poly V-belt and pulleys, timing belt and pulleys, and the engine coolant pump. Inspection of clutch components condition.
5 YEAR MAINTENANCE PACKAGE; As an extra option you can add this 5 year package to the service package of your choice. This contains replacement of the door-, bonnet-, and trunk struts. Lubrication of headlight mechanisms (after we have made the headlights serviceable) and doormotors.

10 YEAR MAINTENANCE PACKAGE; Also this is an extra option to add on the service package of your choice. Replacing evaporator carbon canister and evaporator filter,  coolant cap replacement, crankcase ventilation replacement and TPMS sensor replacement.
AIRCO MAINTENANCE PACKAGE; The airconditioning system of a Spyker consists of a few parts that needs maintenance. SpykerEnthusiast has developed OEM parts that are a direct replacement. The advise is to replace all parts when working on the airconditioning system of the Spyker or whenever a recharge is done. We recommend to keep the system charged and change the filters every 2 years when doing maintenance
The airconditioning package consist of a filter/dryer an orifice with filter and a cabin air filter.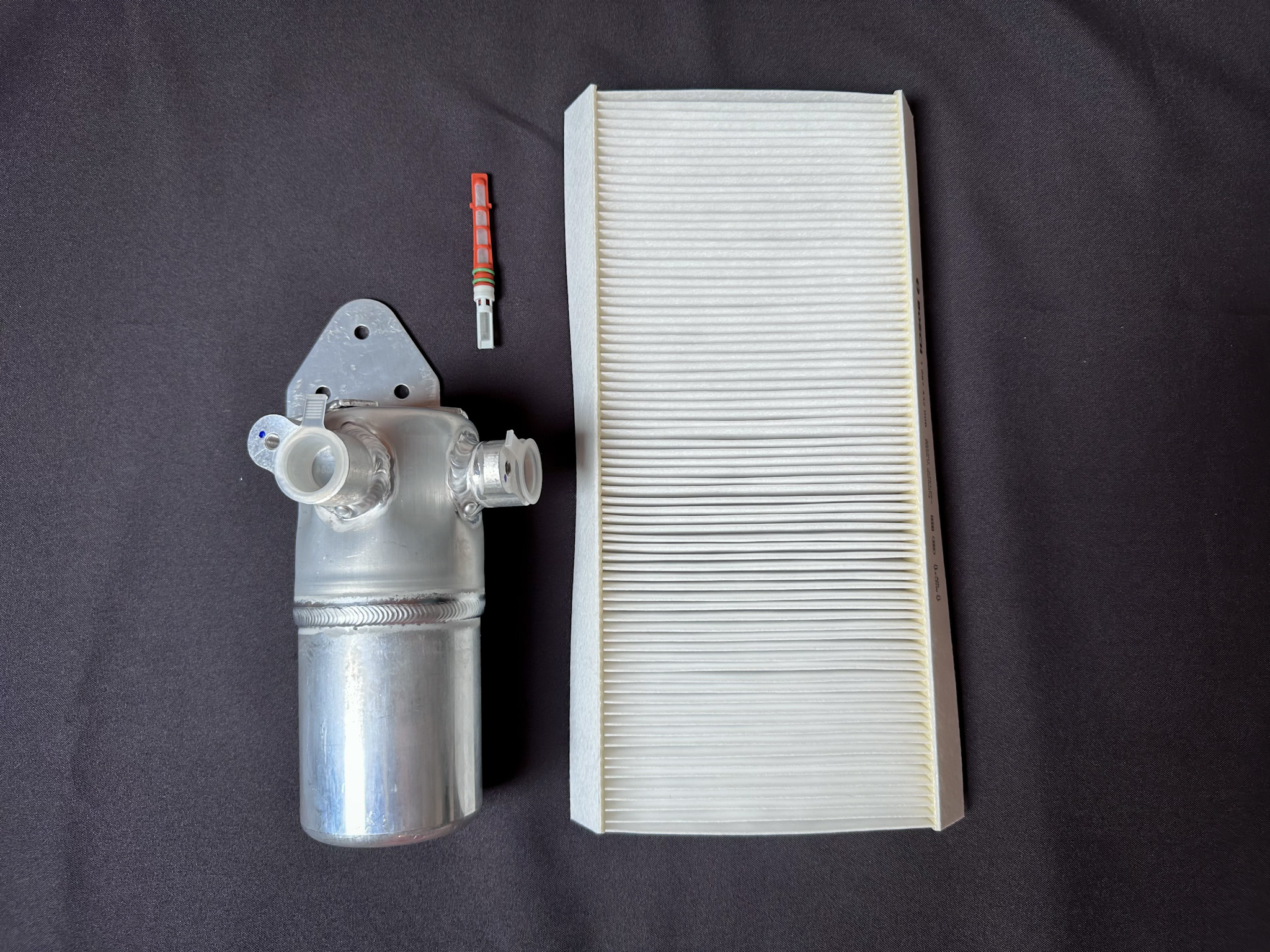 ---
TRANSPORT SERVICE
 Contact us if your car needs to be transported, we can provide a pick up and delivery service for our customers in a closed car trailer!